Godey's Lady's Book
Above is a hand-colored steel-plate engraving from the Jan 1857 issue (v. LIV) of Godey's Lady's Book. "Our fashion plate," according to the publisher and editor L. A. Godey, "contains six figures, about treble the number given by any of our contemporaries, and it is now generally conceded that they surpass all others." It was one of more than sixty illustrations in the issue, including this brioche cushion: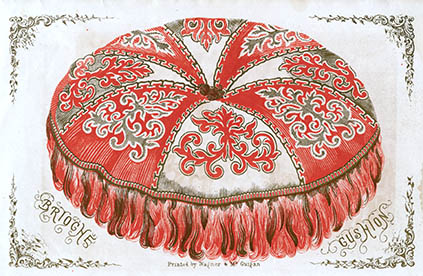 Louis Antoine Godey first published his Lady's Magazine out of Philadelphia in Jun 1830. He based the magazine on the popular literary annuals (or gift books) as well as European magazines such as The Lady's Monthly Museum (London) or La Belle Assemblée (Paris) – even directly copying material from them.1 Within several years Godey had 10,000 subscribers and in 1937 he bought Sarah Josephina Hale's Ladies' Magazine (Boston). Importantly, he hired her as the editrix of the newly expanded Godey's Lady's Book.
Hale insisted on only original work by American authors and the result was much more literary than other women's monthlies. Godey's, particularly in the 1840s, reads like a Who's Who of early American literature: Edgar Allen Poe, Nathaniel Hawthorne, Oliver Wendell Holmes, Washington Irving and Harriet Beecher Stowe, among many others, all contributed to the magazine.
Godey, however, made sure that his magazine wasn't just a 19th century literary review. An astute businessman and arbiter of upper middle-class tastes, he included articles on handcrafts and sewing, health and hygiene, recipes and remedies, piano sheet music, and, of course, popular (meaning French and English) fashion.
The combination of Hale's and Godey's editorial interests made it the most popular and influential women's periodical of the 19th century. By 1860 there were more than 150,000 subscribers.2 It became the "Queen of monthlies."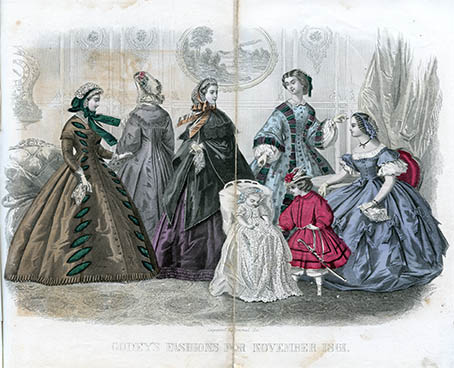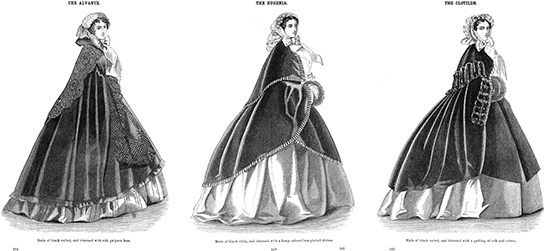 Many of the figures, diagrams and engravings were bound into the front of each issue, and these "embellishments," as Godey called them, became progressively more elaborate to compete with newer magazines, such as Harper's. The high point, however, was always the colored fashion plate.3 At one point Godey had 150 woman hand-tinting the plates with watercolors.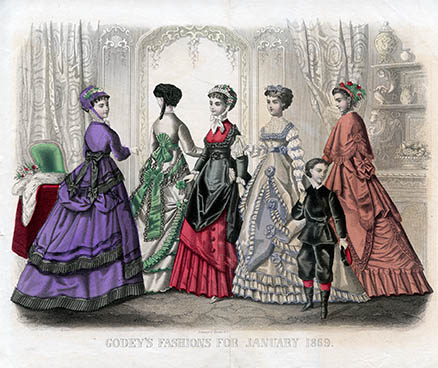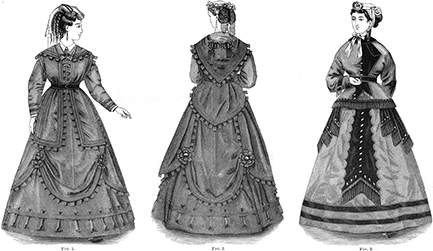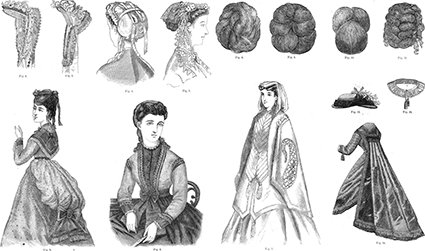 The war caused Godey's to lose a third of its readership and it never recovered. It was too conservative for the Women's Rights Movement and faced increasing competition from titles such as Peterson's and Harper's. Hale and Godey retired together in December 1877 and the magazine passed through several owners before ceasing publication in 1892.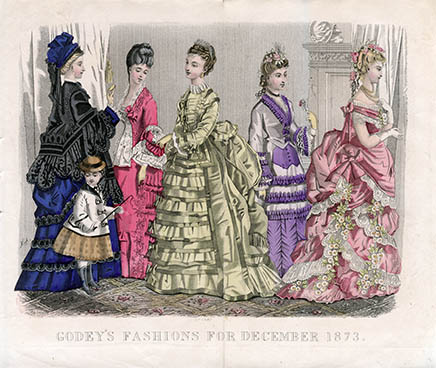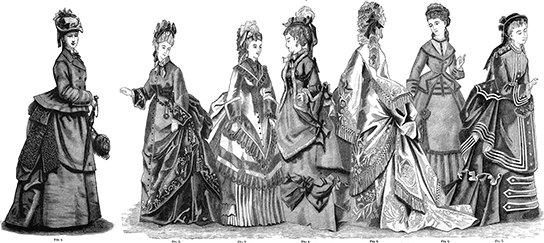 1. A universally common practice among magazines and newspapers of the time. In 1845 Godey shocked his competitors by becoming the first American magazine to copyright the contents. His competitors were, not surprisingly, upset, calling the move a "narrow selfish course." None other than Edgar Allen Poe rose to Godeys defense. The result was that Godey could pay his authors more, resulting in better content, and women had no other source for Godey's material. Within the the decade most of his competitors followed suit.
2. Godey's was priced at 3.00 USD per year, more than any other women's magazine. They did, however, offer discounts for multiple orders which Godey called "clubs." Note that the magazine was not postpaid, the subscriber had to directly pay postage to the postmaster (in 1857 this was 4½ cents for three issues). Godey reported that in 1859, it cost 105,200 USD to produce the Lady's Book, including 8,000 USD to hand-color the plates.
3. For more information on the plates, see: Olian, Joanne. 80 Godey's Full-Color Fashion Plates: 1838–1880. New York: Dover, 1998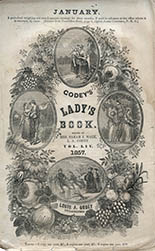 26 May 2010 ‧ Design