The Annex
Codex 99 at Five
When I began this site five years ago, it was in an outpatient infusion center with crappy WiFi waiting for Nina to finish up her interminably long 3×/week chemo. If nothing else it allowed me, like Carroll's Alice, to reach for the bottle that said "Drink Me" and, even if only for an hour or so at a time, escape down the rabbit hole. After Nina died – because T-cell leukemias are just brutally, heartbreakingly terrible – it became even more of the "Drink Me" bottle and even more of the rabbit hole. Everyone's blog begins with something like this, right?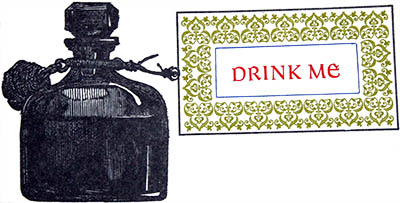 Alice in Wonderland, Barry Moser, 1982
Over the intervening years, however, the site became something else altogether. It became a way for me to learn about subjects I held an interest in, often since childhood, but never bothered to explore. Researching topics that I had, at best, a tenuous grasp of has become my favorite part of doing the site. The less I knew about the subject when I started the more suprising – and fun – the result.
Along the way I've learned things that I would never have guessed: that Sarah Bernhart would completely blow the mind of the present-day TMZ – but do it more than a century ago; that Eadweard Muybridge not only brutally murdered his wife's lover but got away with it; or that Ernest Hemingway didn't care for sugar in his drinks. I now know more about, among other things, middle-aged academic cartographers, young 19th century stage actresses or quintuplet children then is probably healthy.
So then, that's what this site is: its me trying to research topics I find interesting, trying to collate images that illustrate some point and trying to somehow organize all of this into something that makes sense to, well, at least me. Its obvious that I'm not a professional designer, or historian, or critic, or writer (perhaps especially not a writer), so the fact that anyone else reads this site has been gratifying. If your reading this now, thank you.
It seems like many of the sites I've liked in the past lasted about five years. Perhaps they know something I don't because for the fifth anniversary of Codex 99 I've decided, in the words of professional gamblers and certain tech CEOs, to "double down" on this thing.
Over the last five years I've accumulated lots of little bits and pieces; things that are interesting but not worth the effort of an elaborate, ridiculously footnoted post. So for the fifth anniversary of the site I'm introducing the Annex (a name and idea lifted from Jamie Hamilton's now sadly defunct The Nonist). It will include shorter, more ephemeral (both literally and figuratively) posts. Kind of like a completely-out-of-touch-with-the-rest-of-the-internet version of Tumblr.
Finally, on Codex 99 proper, expect the posts to get longer. Also, as I convert old posts to the new Large-Print Reader's Digest-inspired layout I am not only going to clean up the typos and poorly worded phrases (of which there are many), but in some cases completely rewrite, split up, and otherwise fold, spindle and mutilate previous posts based on material I've come across.
I hope you like what comes up, but more importantly, I hope I do.
Now, back down the rabbit hole.
8 May 2013 ‧ Administrativa