Netter on Anatomy
Frank Henry Netter (25 Apr 1906–17 Sep 1991) studied art at the National Academy of Design and the Art Students League and by the mid 1920s was a successful commercial artist, doing everything from "advertising layout and design to pretty girls for calendars and movie stars' portraits." His family, however, never approved of his career and his mother, fearing that the lifestyle of an artist would lead him to ruin, encouraged him to be a doctor instead.1
After his mothers death he enrolled in medical school. He received an MD degree from New York University, completed a surgical internship at Bellevue and joined a private surgical practice in Manhattan. But, as Netter stated: "these were the days of the depression and there seemed to be more demand for my pictures than there was for my practice," and he soon concentrated solely on medical illustration.
In 1936 he began a life-long collaboration with Ciba, illustrating a fold up heart to promote their digitalis product.2 The illustrations were so popular with physicians that he began to illustrate other fold-up organs, then pathology portfolios (typically 10–12 loose plates in a folder) as well as articles for Ciba's Clinical Symposia.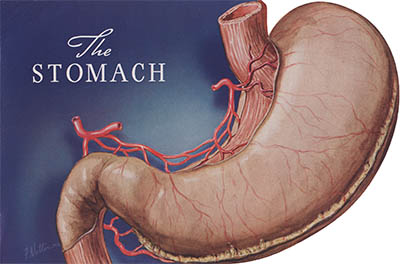 During World War II Netter oversaw the production of graphic aids for the Army Medical Department. After the War he picked up right where he left off with Ciba, and his portfolios proved so popular that Ciba published them in a book, The Ciba Collection of Medical Illustrations:3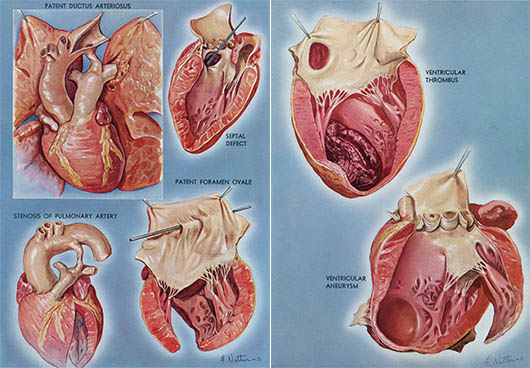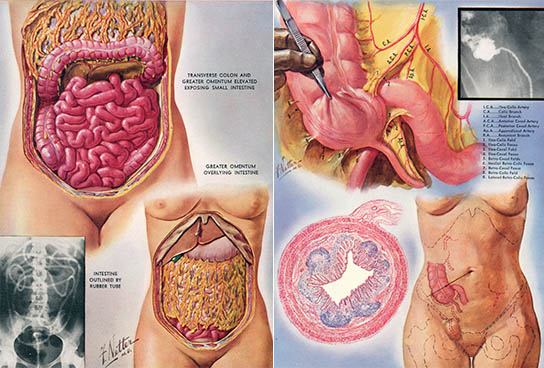 After the Ciba Collection, Netter, along with his editor Ernst Oppenheimer, began a much more ambitious project – a complete systematic review of the entire body. As Netter stated in 1956: "a monumental project illustrating the entire anatomy and pathology of the human body, system by system, and this project I expect will occupy the major part of what remains of my working career." 4
He turned out to be right, the encyclopedic Ciba Collection of Medical Illustrations, which eventually included eight volumes spread over 13 books, took 40 years to complete, with the last part being published in 1993, two years after his death. It was one of the most comprehensive medical illustration projects of the 20th century and easily Netter's opus magnum.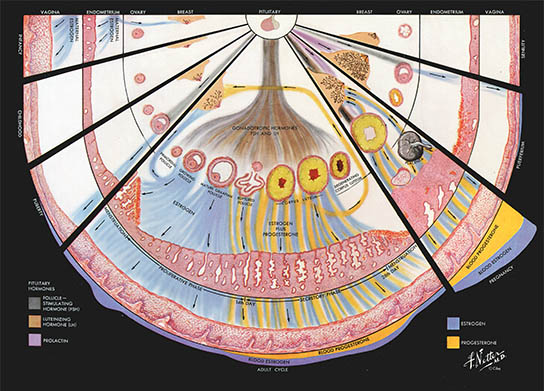 Netter would spent the next 40 years, first on Long Island, then, living the life of a gentleman scholar in Palm Beach, updating, revising, and expanding the Ciba Collection, contributing to Clinical Symposia, and illustrating the occasional book, journal or magazine.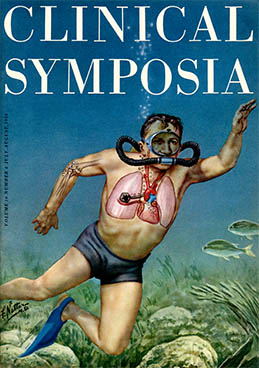 In 1985, after nearly 250 articles, he quit work on the Clinical Symposia to concentrate his remaining energies on completing the Ciba Collection as well as one last major project. After decades of requests from physicians and students, Netter began work on an atlas of gross anatomy, a project he referred to as his "Sistine Chapel." Along with his editor Sharon Colacino, he collated material from his vast output, prepared new plates to fill in the missing holes, and published the Altas of Human Anatomy in 1989.6 The Altas was, not surprisingly, rather well-received. The current fifth edition is, at least according to the publishers ad copy "the most loved and best selling anatomy atlas in the English language." Here are three of the 514 plates from the first edition: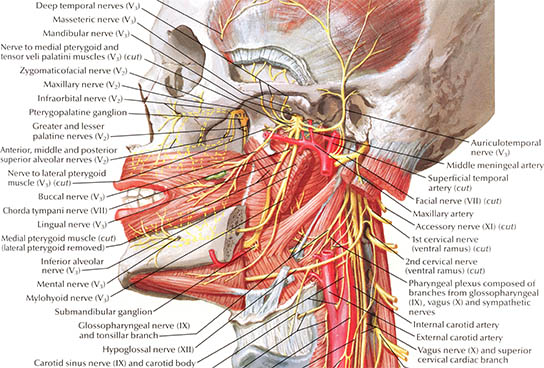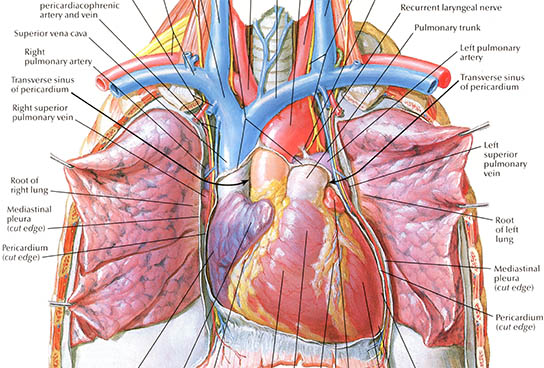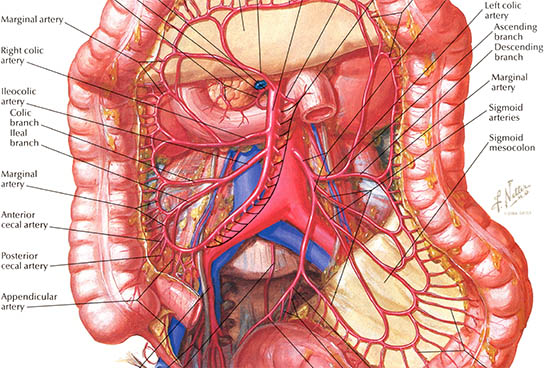 After his death in 1991 he left behind more than 4000 gauche panels. These illustrations, which perfectly balanced medicine and art, and which were completely informed by his commercial art background, have been responsible for training several generations of physicians. The collection, now owned by Elsevier, is still widely used in many different publications and formats.7
1. "[My mother] told me all about the evils of an artists' life, you know, how dissolute it was and how they cavorted with nude models and drank alot and so on. I really though it didn't sound like such a bad life but I promised I would give more attention to my schoolwork." See: Birmingham, Frederic. Dr. Frank Netter: Michaelangelo of Medicine. Saturday Evening Post 1976 May/Jun 248(4), 62-77.
2. Each of the fold-up organs advertised a relavent drug. The Stomach, e.g., advertised Trasentin (phenyl-acetyldiethylaminoethanol, CAS 92-83-0), "a recently discovered antispasmodic with unusual properties."
3. Netter, Frank H. The Ciba collection of Medical Illustrations. Summit, New Jersey: Ciba Pharmaceutical Products, 1948. The book was printed by Colorpress in New York and offered by Ciba "at cost." Netters titles are most certainly no longer offered at cost.
4. Netter, F. H. Medical Illustration; Its History, Significance and Practice. Bull NY Acad Med. 1956 May 33(5) 357-368. For an excellent biography and review see: Hansen, John. Frank H. Netter, M.D. (1906–1991): The Artist and His Legacy. Clinical Anatomy 2006 19:481–486
5. The Ciba Collection of Medical Illustrations, now published as the Netter Collection of Medical Illustrations includes: Vol 1 Nervous System, pt I Anatomy and Physiology, pt II Neurologic and Neuromuscular Disorders. Vol 2 Reproductive System. Vol 3 Digestive system, pt I Upper Digestive Tract; pt II Lower Digestive Tract; pt III Liver, Biliary Tract and Pancreas. Vol 4 Endocrine System and Selected Metabolic Diseases. Vol 5 Heart. Vol 6 Kidneys, Ureters and Urinary Bladder. Vol 7 Respiratory System. Vol 8 Musculoskeletal System pt I Anatomy, Physiology, and Metabolic Disorders; pt II Developmental Disorders, Tumors, Rheumatic Diseases & Joint Replacement; pt III Trauma, Evaluation, & Management.
6. Netter, Frank, Colacino, Sharon (ed). Atlas of Human Anatomy. Summit, New Jersey: Ciba-Geigy. 1989.
7. Ciba → Ciba-Geigy → Novartis. Novartis sold the collection to Havas MediMedia's US subsidiary Icon Learning Systems in Jun 2000. Icon, in turn, sold the collection to Reed Elsevier in May 2005 (for 270 million Euros). With such a large investment it's no surprise that Elsevier has repurposed the images into many different titles over the last several years. Their catalog currently includes more than 65 titles, including books (even a coloring book), flashcards and wall charts. There are also CD-ROMs, internet databases (Netterimages.com), even iPhone apps.
29 Dec 2009, updated 7 Mar 2011 ‧ Anatomicae