Astor Place
NYC Subway Tiles1
After the Rapid Transit Act was signed into law on 22 May 1894, the Rapid Transit Railroad's Board of Commissioners began planning a Bronx-Manhattan-Brooklyn subway. Groundbreaking occurred on 24 Mar 1900 and after four years of construction at a cost of nearly 70 million USD the Interborough Rapid Transit Subway – "the greatest municipal enterprise of modern times" – was opened on 27 Oct 1904.
In 1901 the general contractor John McDonald hired the architects George C. Heins and Christopher Grant LaFarge, who had just completed work for the Bronx Zoo, to design the stations and platforms. Inspired by the "City Beautiful" theories of urban planning, which had reached their peak following the 1893 Columbian Exposition, Heins and LeFarge designed beaux-arts stations and decorated the platforms with arts-and-crafts style glazed terracotta bas-reliefs and faience mosaics depicting, often obliquely, the name of the station.2 Although in line with the artistic tastes of the times the result wasn't exactly an efficient system of way-finding.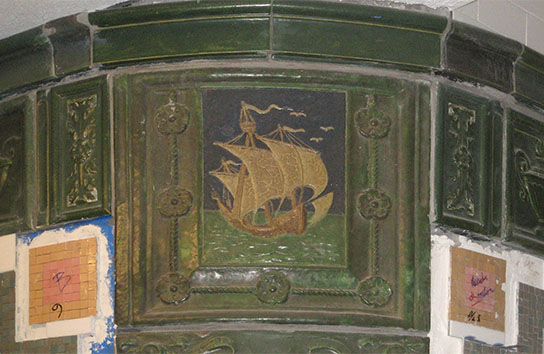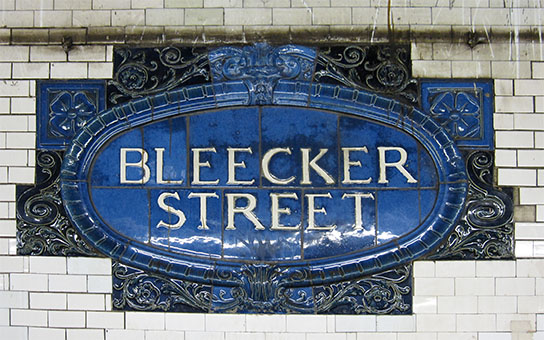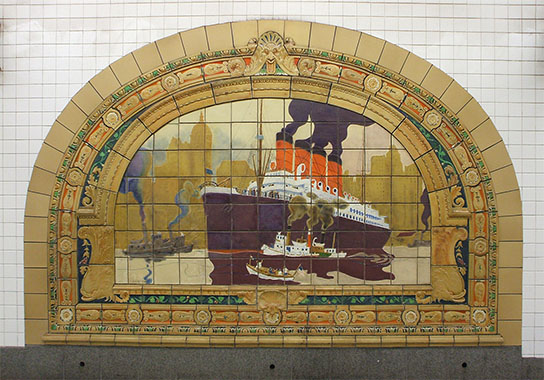 In 1906 the artist Squire J. Vickers replaced Heins and Lefarge as the BRT (the so-called dual contract) architect. For both artistic and budgetary reasons he designed ceramic tile mosaics in a pared-down, geometric, "machine-age" style. To aid in way-finding he color-keyed local stations to the nearest express station. Over the next 34 years he was responsible for the look of more than 300 stations.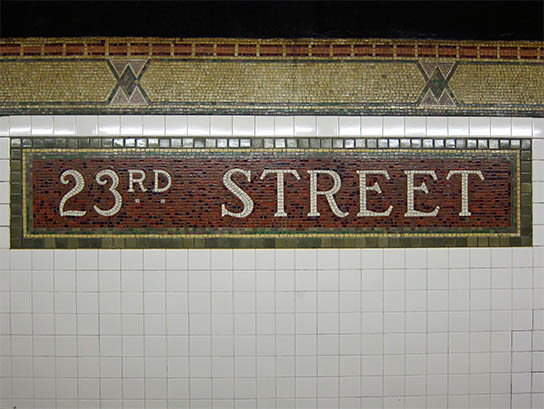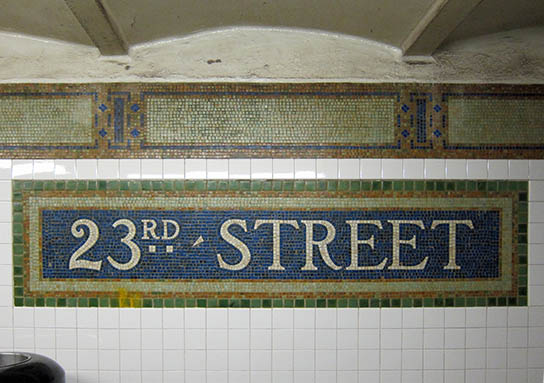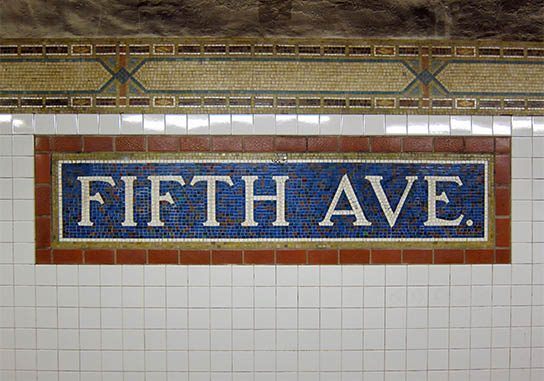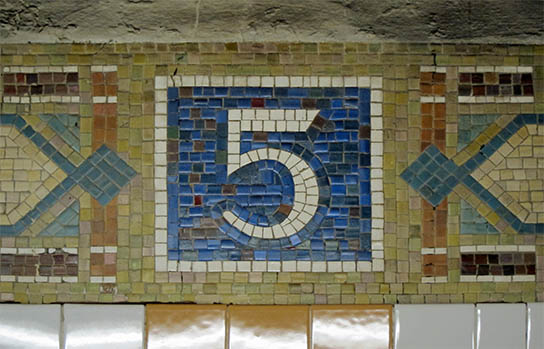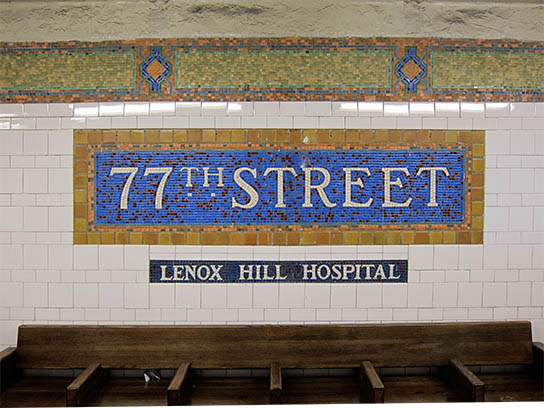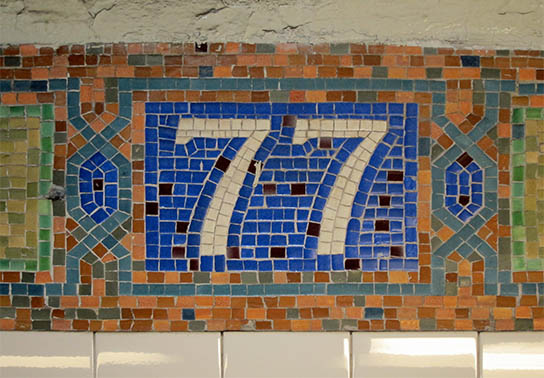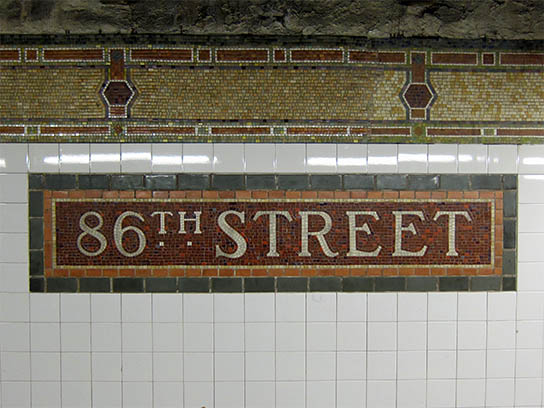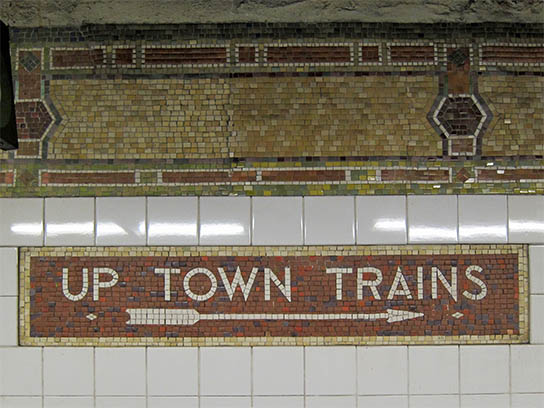 If Heins and LeFarge's bas-reliefs were too inscrutable then Vickers' color-coded mosaics were too subtle and both were unsuited for way-finding. Add 50 years of additional signage with no graphical consistency and the result was confusing at the very least. As Paul Shaw writes it was "an untenable mess." 4
As early as the 1950s there were proposals to clean up the subways' signage and in 1966 the Transit Authority hired Bob Noorda and the legendary Massimo Vignelli of Unimark International to bring some order to the chaos. They developed a modular sign system and later a complete graphic standards manual.5 Although it would take more then 10 years for the MTA to (mostly) adopt Unimark's recommendations, Noorda and Vignelli's work is now the very identity of the MTA.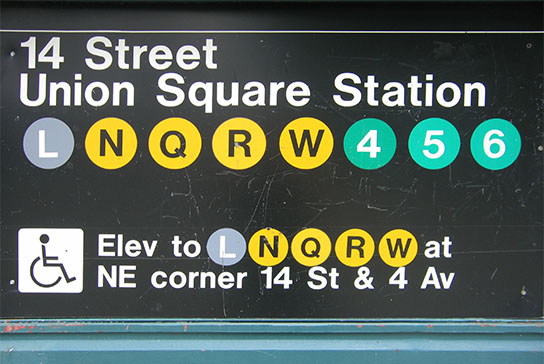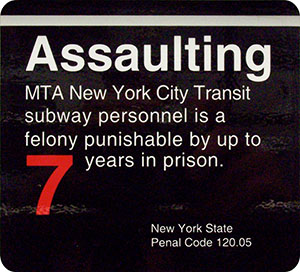 With the eventual adoption of Unimark's design program there was a renewed interest in the original mosaics not as signage but as historically significant public art pieces. In this spirit the MTA began the Arts for Transit program in 1985 where new mosaics, by artists ranging from public school students to Milton Glaser and Roy Lichtenstein, were added to stations: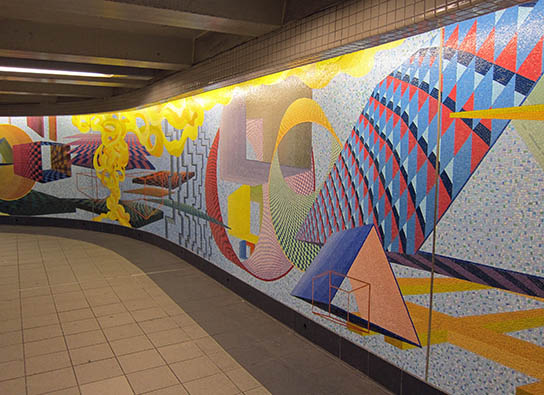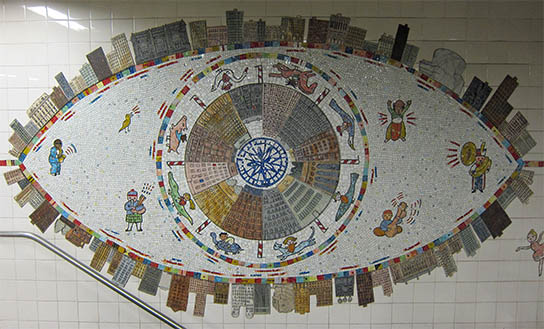 1. This material was gathered during your humble narrators' first ever visit to New York (22–25 Oct 2011). As you could imagine I saw a lot of stuff that could be theoretically used on the blog, so consider this post to be NYC, part I. Unless otherwise noted these photos were taken by my brother, who, honestly, really needs his own travel/photography blog.
2. The ceramic tiles came from a number of manufacturers, including the Guastavino Fireproof Construction Company. The terracotta bas-reliefs were manufactured by the Grueby Faience Company of Boston and Rookwood Pottery of Cincinnati. Both Grueby and Rookwood started with art pottery and branched out into architectural ceramics by the turn of the century. Their work is now prominently featured in the Metropolitan Museum of Art and the Cincinnati Art Museum, respectively.
3. Columbus Circle was the first station completed (1901) and Heins and LeFarge used it to test designs and materials. Some of these prototype designs were uncovered when the station underwent a 127 million USD renovation in 2007 (well, starting in 2007). Here is an Art Nouveau classic rescued, restored and now on display on the uptown 1 train platform: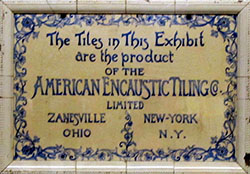 4. See Paul Shaw's essay: "The (Mostly) True Story of Helvetica and the New York City Subway," 2008, which is online at the AIGA Voice. Even better see his book, Helvetica and the New York City Subway System: The True (Maybe) Story. Cambridge, Massachusetts: MIT Press, 2011.
5. New York City Transit Authority Graphics Standards Manual. New York: Unimark International Consultants, 1970. The book, designed by Vignelli, is every bit as awesome as you would expect. An updated version was published in 1980 and is (to be kind) much less awesome. At this point it would be a serious dereliction of my design blog duties if I didn't mention his iconic 1972 map: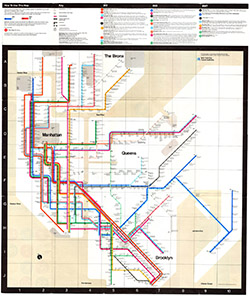 6. The Czech-born artist Peter Sis is best known as a children's book illustrator. His books Starry Messenger (New York: Farrar, Straus and Giroux, 1996) and Tibet Through the Red Box (New York: Farrar, Straus and Giroux, 1998) were both Caldecott Honor winners. He was also the recipient of a MacArthur Fellowship (AKA Genius grant) in 2003.
5 Nov 2011 ‧ Design