Whipped Cream & Other Delights
The Music Mogul & the Supermodel
This LP, a 1966 pressing of Whipped Cream and Other Delights (A&M SP-4110), was Herb Alperts' most popular and successful release. It spent eight weeks at #1 on the Billboard charts, sold 6.5 million copies and won four Grammys.1 If you didn't own this yourself then it was almost certainly in your parents or grandparents record collection.
Then there's that cover.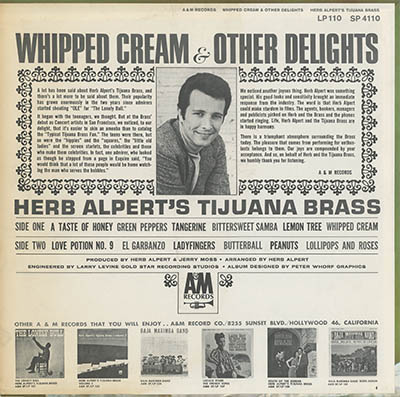 Herb Alpert, born in Los Angeles to Russian and Romanian Jewish parents, grew up in a musical family and began trumpet lessons at age eight. After a stint in the Army he began his career as a songwriter and singer (under the name Dore Alpert). In 1962 Alpert and music promoter Jerry Moss started their own label – A&M Records – and released their first single, the mexican-influenced "The Lonely Bull." The song, which singlehandedly popularized the Ameriachi sound, became a top 10 hit: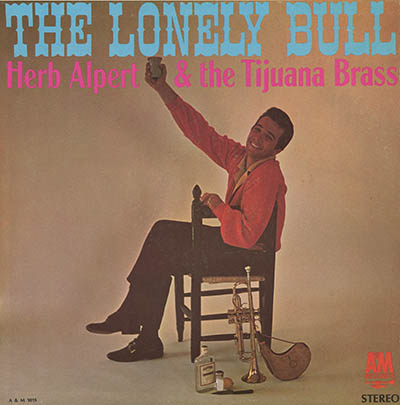 Alpert would turn out to be an uncanny arbiter of MOR popular taste and an astute judge of talent. By the mid-1960s the Tijuana Brass had a string of hits and the label had signed a number of other successful acts. Here is part of the 1966 catalog from the inner sleeve: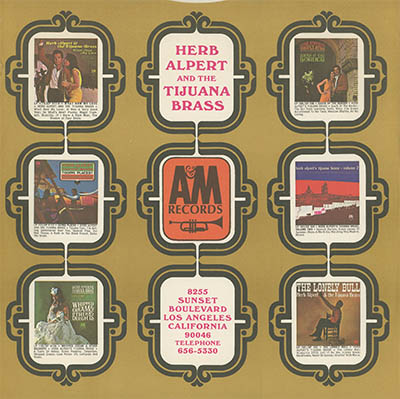 Dolores Erickson began modeling as a teenager. She studied art at the University of Washington but dropped out at 19 to model full-time in San Francisco. By 1960 she ended up in LA as an aspiring actress under contract to Paramount then Warner Bros, where she had several bit parts in TV shows.
While in LA she became a model for the photographer Peter Whorf who used her for Nat King Cole and Cy Coleman releases. She, along with her husband, an record industry exec, became friends with Alpert and Moss. Peter Whorf also happened to be Alperts' art director. You can see where all of this is going.
When Whorf began to design the cover for Alperts' fourth album – a concept that Alpert though "was skirting the line" – he flew Delores out to LA for a one-day shoot in his garage studio. He used strategically placed chiffon and shaving cream to hide not only her strapless bikini but her three-month baby bump. Here are a few alternates from the shoot: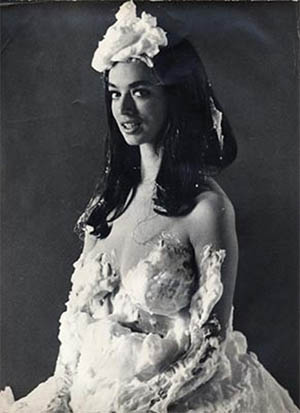 The cover, with Delores' doe-eyed innocence and come-hither pose was every adolescent (and perhaps older) boys fantasy. It became a 1960s pop-culture icon and still one of the most recognizable (and parodied) album covers of all time.
1. The album was #1 on the Billboard 200 from 27 Nov 1965 – 8 Jan 1966 and again from 19 Feb – 5 Mar 1966. The #1 between was an album called Revolver by a band named the Beatles (yeah, I've never heard of it either). At the 8th Annual Grammy Awards (15 Mar 1966) the song "A Taste of Honey" won Record of the Year, Best Instrumental Arrangement, Best Instrumental Performance and Best Engineered Recording - Non-Classical. Not surprisingly future printings of the cover, such as above, highlighted the track. Although Whorfs' cover was nominated for Best Photography it did not win.
2. To withstand the hot studio lighting Whorf used shaving cream but as she stated in a later interview "of course it was whipped cream on my fingers... Shaving cream probably doesn't taste very good." Despite these precautions there were apparently several pictures where the shaving cream had slid off her breast. When she saw these photos she stashed them behind a girlfriends refrigerator so her conservative husband wouldn't see them.
1 Mar 2012 ‧ Design