The 356
Part I – Branding the 1950s Porsche
This 3-color brochure for the 1958 Porsche 356A, designed by Hanns Lohrer, features a gloved hand2 on the gear shift and (presumably the same) women walking a poodle. There is no picture of the car but instead a subtle but brilliant graphic representation of the tagline "Powerful elegance guided with ease." It was Porsche marketing at its best.
The Austrian engineer Ferdinand Porsche (3 Sep 1875 – 30 Jan 1951) founded Dr. Ing. h. c. F. Porsche GmbH in 1931 and spent the next 15 years on design commissions for, among others, Wanderer, Zündapp, NSU, Auto Union and perhaps most famously for VW and the Beetle. After the war and internment in Dijon he, along with his son Ferry3 and designer Erwin Kommeda completed their first sports car under the Porsche name – the Type 356: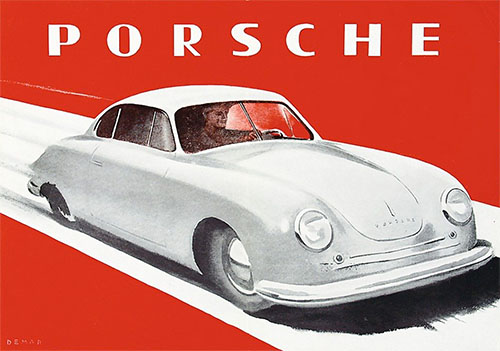 Ferry, who took over the company after his father died, initially had little use for advertising, preferring instead personal contact and word-of-mouth referrals in racing circles. Others in the company, however, had different ideas. Both Richard von Frankenberg, director of their new press and advertising department, and racing director Huschke von Hanstein commissioned leaflets, brochures, a magazine and, especially, posters. On a shoestring budget they would create not only some of the most beautiful automotive graphics of the 1950s and 60s, but some of the most effective. Most of this was done with two designers.
Erich Strenger (1 Dec 1922 – 17 Feb 1993) studied art and photography at the Stuttgart Kunststaatsakademien and, after service in WWII and four years in a Russian prison, returned to Stuttgart where he met von Frankenburg and began designing posters and brochures. Eventually Von Hanstein commissioned him to produce posters celebrating each Porsche team victory. Although Strenger's photo-mosaic and watercolor posters depicted cars no typical Porsche buyer would ever own, they brilliantly reinforced the high-performance heritage of the company. A classic example of "Win Sunday – sell Monday."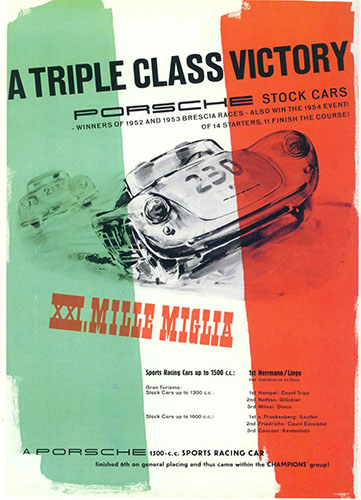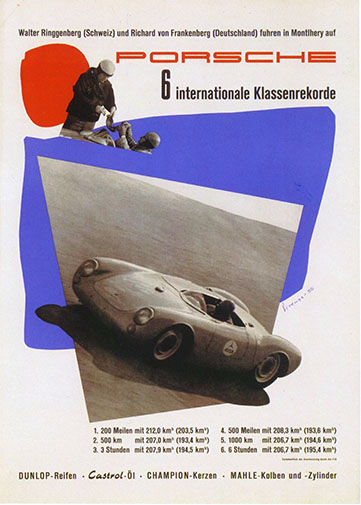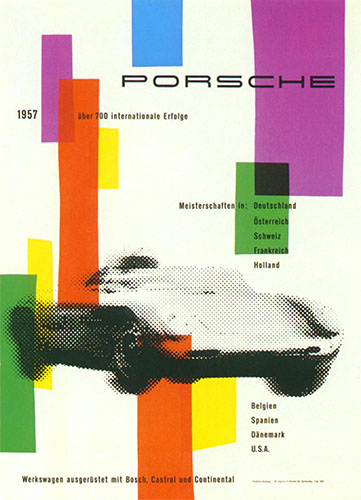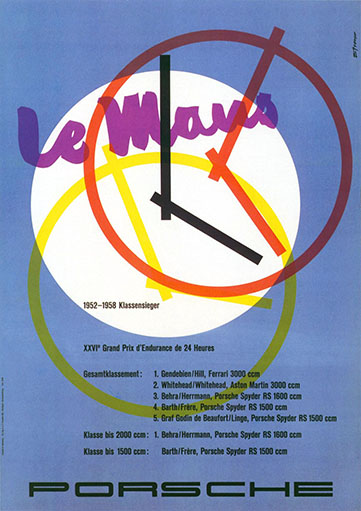 The Stuttgart artist and designer Hanns Lorher (1912 – 1995), who had already designed for Olympia typewriters and Mercedes, also began working for Porsche in the early 1950s.5 Although his design language was similar to Strengers, his subject was much different. His brochures and showroom posters emphasized poodles, gloved hands and sports equipment. He wasn't illustrating a sports car but an aspirational lifestyle. As Dieter Landenberger, head of the Porsche Archive, said he was showing the "world around the cars."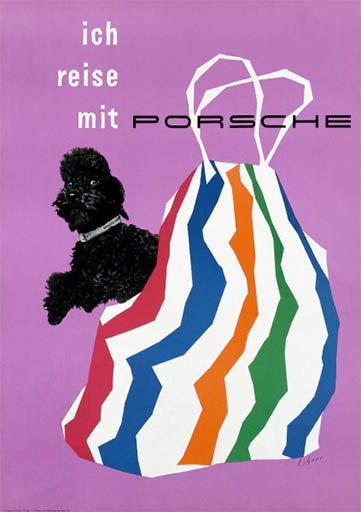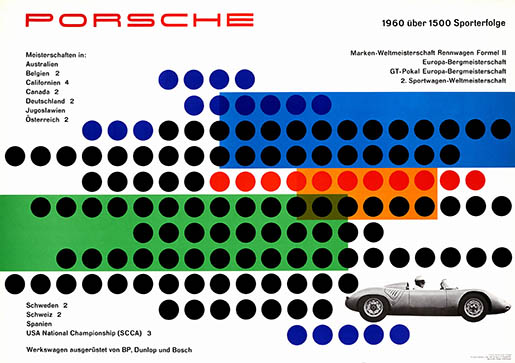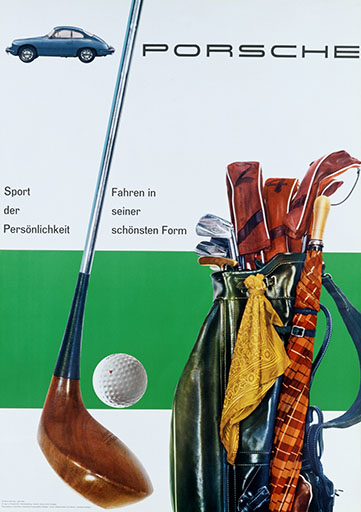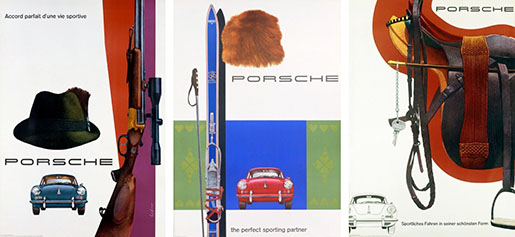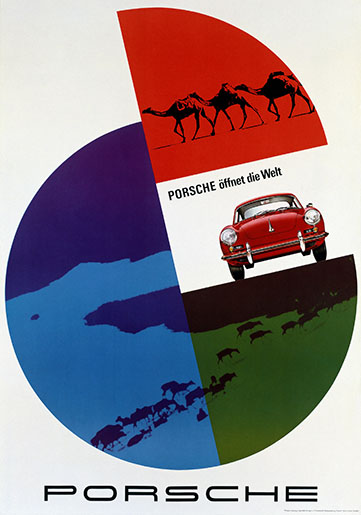 Lorher worked for Porsche into the 1960s and Strenger until his retirement in 1987. Their work, a European twist on the classic mid-century American advertising formula, turned out to be remarkably effective. Over the 17 years that the expensive,6 small 356 in it's various forms was manufactured more than 76,000 were sold worldwide.

1. Unless otherwise noted, the Strenger race posters are from the Pelican Parts Vintage Porsche Racing Posters site. The Lorher showroom posters and brochures are from the Porsche Museum archives.
2. Which your humble narrator may or may not have a predilection for.
3. Everyone in the family was named Ferdinand. Ferdinand Porsche's son was named Ferdinand Anton Ernst Porsche (or just Ferry) and his son was named Ferdinand Alexander Porsche (or Butzi).
4. The first 2-color 4-page brochure – now known as simply the Gmund Brochure – was printed by H. Kapri & Co., Vienna, in 1948. An original copy recently sold at auction for more than 5000 USD: i.e., more than the car originally cost in 1948. Welcome to the world of Porsche ephemera.
The standard reference for Porsche literature is: Miller, Susan and Merritt, Richard. Porsche: Brochures and Sales Literature: A Source Book, 1948-1965 (3rd ed). Naples, Florida: M&M Creative Group, 2005, or White, Charlie. DerWhite's 356 Porsche Sales and Technical Literature. (available from his old-school, but stunningly comprehensive 356 site). The standard reference for Porsche posters is: Lewandowski, Jürgen. Porsche die Rennplakate Von 1950 bis Heute. Bielefeld, Germany: Delius Klasing Verlag, 2008.
Finally, perhaps the most beautiful book on the early Porsches is the exceeding rare Lapper, Hermann. Liebe zu Ihm: Love for the Porsche. Stuttgart: H. Lapper, 1960.
5. For an overview of Lorher's work see: Berger, Wolfgang and Lorher, Uwe. Bilbildung: Hanns Lorher – Plakatkunst der 50er bis 70er Jahre. Ludwigsburg, Germany: Avedition, 2012.
6. For reference, Max Hoffman, the US East coast Porsche distributor, listed the 1953 356s at 3595–4584 USD, similar in price to a Cadillac Coupe DeVille.
5 Nov 2012, updated 10 Nov 2012 ‧ Design