Gismonda
Alphonse Mucha and Sarah Bernhardt
Alphonse Maria Mucha was born 24 Jul 1860 in Ivančice, Moravia and as a child exhibited a natural talent for art. In 1878, however, he was denied admission to the Akademie výtvarných umění v Praze, so he left to work as a scene painter for Kautsky-Brioschi-Burghardt in Vienna. Under the patronage of his sponsor, the brother of Count Khuen von Belasi, he received his first formal training at the Akademie der Bildenden Künste München and later at the Academie Julian and Academie Colarossi in Paris.
In 1887 Mucha's patronage ended and he was left to fend as a freelance illustrator. Commissions were sparse and he struggled along, quite literally, as a starving artist.
Then there was Sarah Bernhardt. The story goes that Mucha was toiling away correcting proofs at Lemercier's printing works around Christmas 1894 when Bernhardt's agent inquired with an immediate need for a poster advertising her next production. Because all of Lemercier's artists were on vacation, Mucha volunteered and in less than two weeks he created the poster for Gismonda.
The nearly life-size poster (216 × 74.2 cm), unveiled on 1 Jan 1895, was unlike anything else in Paris at the time and was an immediate sensation among poster collectors. It announced Mucha not only as an outstanding artist but was perhaps the first complete Art Nouveau poster. If Beardsley had invented the style then it was Mucha who perfected it. In fact, for several years the French referred to Art Nouveau as simply "Art le Mucha."
Bernhardt, the master génie de la réclame, was thrilled with the publicity and immediately hired Mucha to an exclusive five year contract to design posters, costumes and sets.1 But let's back up for a minute.
Sara Marie Henriette Rosine Bernard was born ca. 22 Oct 1844 to the Dutch Jewish courtesan Youle (Julie) Bernhardt and an unknown father. Her mother, having no use for a young child. sent her to live in a pension, then a convent, and at age 13 to the Conservatoire National Superieur de Musique where she studied acting.2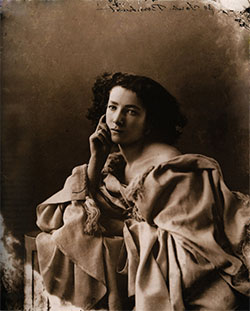 After a somewhat inauspicious start she began to attract notice in plays such as Le Passant (1869), Phèdre (1874) and Hernani (1877). By 1880 she had left the Comédie Française and formed her own company that toured London, Denmark, America and Russia. She became the most famous actress in the world – the "Devine Sarah."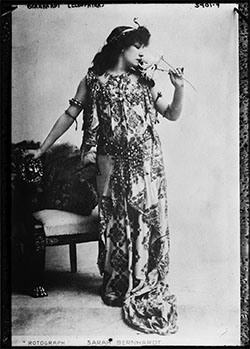 Her international superstardom owed as much to her eccentric, flamboyant and scandalous person life as it did to her acting. She had hundreds of affairs,3 travelled with a menagerie of exotic animals,4 dressed completely unlike anyone else of the time and, perhaps most famously, slept in a coffin. To her detractors she was completely unapologetic and said simply "Quand même" (so what). Mucha later remarked "that rarely has someone's soul been more faithfully exteriorized."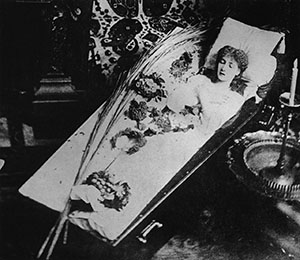 Although Mucha was never part of Sarah's inner circle, the two formed an unlikely friendship that would last well past the contract. Both had a mutual interest in death and the occult and Bernhardt would often attend séances in his studio with the help of a medium. Apparently on at least one occasion she even brought her coffin to the studio.
After the Gismonda commission Mucha became the most sought after commercial artist in Paris and produced a prolific body of work. At the height of his success he left Paris for America and academic painting. By the time of his death he had largely faded into obscurity (more on that in part II).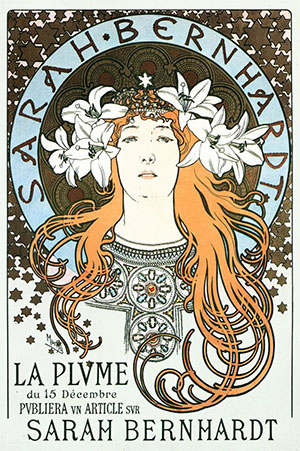 Sarah, on the other hand, became even more famous and wealthy with each tour. She starred in several early silent pictures, made phonograph recordings5 and continued on the stage even after she had her leg amputated at the age of 71.
After her death on 26 Mar 1923 the Times wrote that "No temperament more histrionic than Mme Bernhardt's has, perhaps, ever existed." But that didn't matter to the French – nearly half a million people attended her funeral procession. Ninety years later there has still been no actress that equals her fame. Not bad for the illegitimate daughter of a Dutch Jewish prostitute.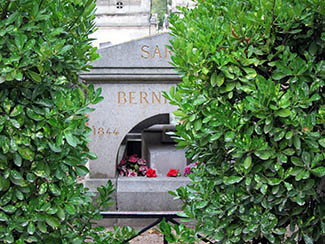 1. In July 1894 Sarah ordered an second printing of 4000 posters but Lemercier only delivered 3450. Assuming that Lemercier sold the rest Sarah switched printers to Champenois in 1896 and sued Lemercier in 1897. She won the case and had the original lithographic stones destroyed.
2. A complete biography is well beyond the scope of this post. See: Gottlieb, Robert. Sarah: The Life of Sarah Bernhardt. New Haven: Yale University Press, 2010. Trust me, the biography reads more like a novel than a university press title.
3. Early in her career Bernhardt supported herself as a demimonde (although to be fair, at the time an actress and a prostitute were pretty much the same thing). Later she began the practice of sleeping with her leading men, often in the dressing room after performances. Other lovers included Victor Hugo, Charles Haas, Jean Mounet-Sully, Gustave Dore, Jean Richepin and Louise Abbéma.
4. Her private zoo included, at one time or another, an alligator that died after too much milk and champagne, a boa that she shot herself after it swallowed a pillow, seven chameleons, a cheetah, a leopard, a pair of lion cubs, a lynx, a monkey and even a few dogs.
5. Sarah's film appearances and gramophone recordings barely hint at the quality of her stage performances. Nevertheless, here is an excerpt from La Samaritaine (1903) and an short clip from Queen Elizabeth (1912).
6. AKA the travel-savvy, photographically-accomplished older brother of your humble narrator. BTW, he took this picture by specific request (I guess professionals would call this "on spec"). How awesome is that.
30 Jan 2011, updated 16 Oct 2011 ‧ Design