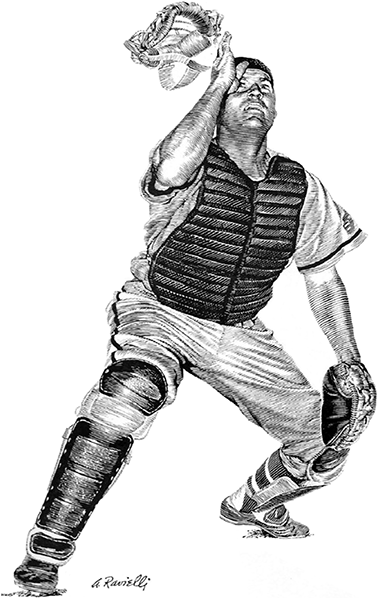 Ravielli on Sport
Anthony (Tony) Ravielli (1 Jul 1916–9 Jan 1997) was born in Italian Harlem. He attended the Textile High School, taught himself anatomy by volunteering at the Bellvue Hospital morgue, and later studied at the Cooper Union and Art Students League. He began his career as a portrait painter, went into advertising, and by the early 1950s had become an author and freelance illustrator. By this time he had mastered what would become his signature medium–the scratchboard (or scraperboard, if your British). His spare, elegant, and remarkably accurate illustrations still stand today as some of the best examples of the medium.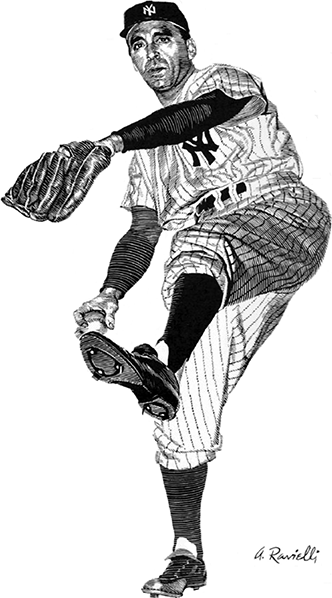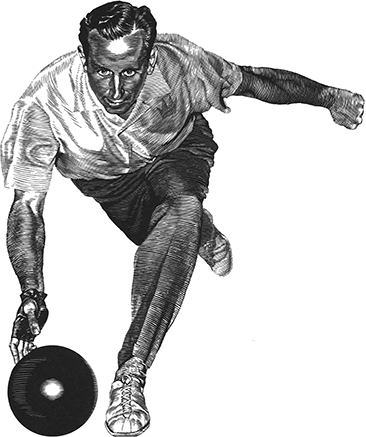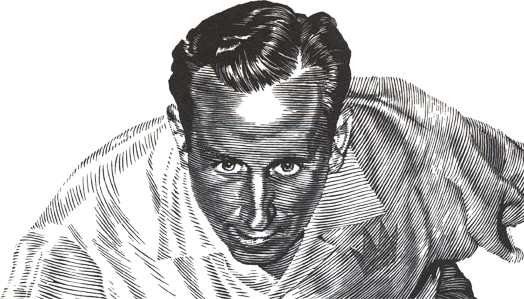 Raviellis' career would span more than 40 years. He wrote and/or illustrated books and articles on anatomy, evolution, earth science, general relativity, mathematical puzzles and science experiments. But what he would be best remembered for were his books and articles on sports instruction. He had a unique ability to deconstruct the technique, whether it be fly casting or the golf stroke, and illustrate it in a way that the average reader could clearly understand.
In 1954 he began freelancing for Sports Illustrated, illustrating the golf column "Tips from the Top," and later articles by Herbert Warren Wind and on Hogans' secret grip in 1955. These lead to major articles on the secrets of professional baseball, the mastery of small boat sailing, the techniques of fly-fishing, and the secrets of bowling.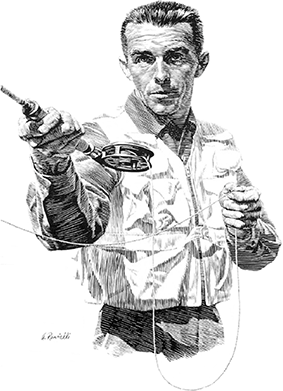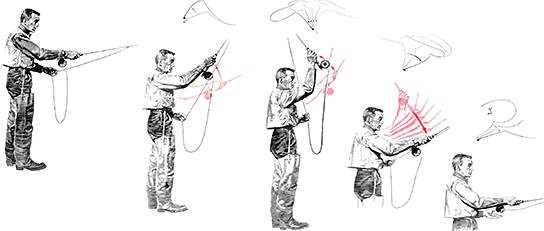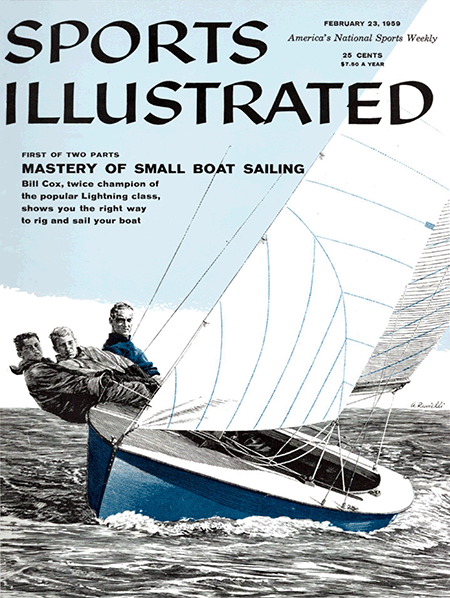 But Ravielli would be forever linked with golf, a sport especially in need of instruction. In 1957 Hogan approached Ravielli to illustrate a five part series titled the "The Five Lessons: The Modern Fundamentals of Golf." The result, which was quickly turned into a book, would become, perhaps, the most important book on golf instruction ever written. Despite 50 years of changes to the game it is still in print, and still a bestseller.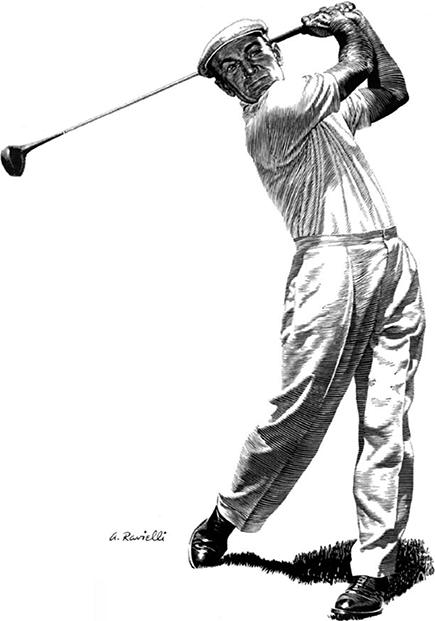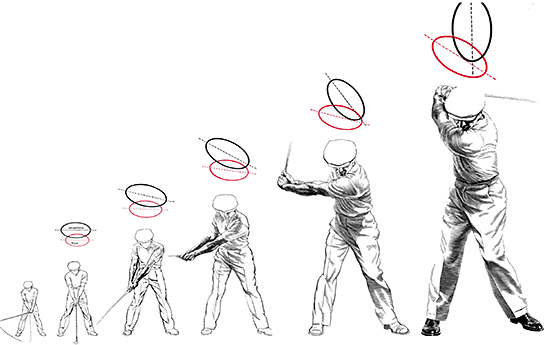 Ravielli left SI for Golf Digest in the early 1960s and he illustrated golf instruction for the next 30 years, including Byron Nelson, Bobby Jones, Sam Snead, Tom Watson and Kathy Wentworth. He would become known as the 'DaVinci of Golf.' As Jack Nicklaus wrote in 2005:7
"Ravielli's commitment to detail, anatomical accuracy and his one-of-a-kind ability to visually convey the words, strokes and swings of the golfers he followed represents true brilliance. He was able to help players and teachers communicate with readers in a way photography is challenged to match 40 years later."
Even after his death in 1997, his original illustrations, found in a New York City antiques shop, continued to form the basis of a number of golf books.
1. Del Crandell, Les Woodcock. "Big League Secrets: Part 3. Del Crandell on the Art of Catching." Sports Illustrated 21 Apr 1958. (Del Crandell lifetime: .254, 179 HR, 657 RBI, 9 time All-star).
2. Sal Maglie, Roy Terrell. "Big League Secrets: Part 1. Sal Maglie on the Art of Pitching." SI 17 Mar 1958. (Sal Maglie lifetime 119-62, 3.15 ERA, 2 time All-star).
3. Don Carter. 10 Secrets of Bowling. New York, The Viking Press. 1957. (Don Carter: 7 PBA titles, 6 time PBA bowler of the year, Bowling Magazine Bowler of the Century). For comparison, see Pietro Ramirez's socio-political masterpiece, The Albino Bowler: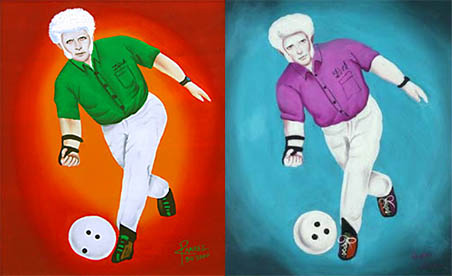 4. Vernon Hidy. "The Art of Fishing with the Wet Fly."SI 28 Mar 1960. The illustration is of champion fly caster Johnny Dieckman, who died in a plane crash 1 Mar 1962.
5. Bill Cox, Mort Lund. "Mastery of Small Boat Sailing: Part 1." SI 23 Feb 1959. (Bill Cox Winner: Sears Cup, Mallory Cup, Prince of Wales Bowl. Runner-up: 1964 America's Cup defender trials).
6. Ben Hogan. "The Modern Fundamentals of Golf." SI 11 Mar 1957; or Hogan, Ben. Five Lessons: The Modern Fundamentals of Golf. New York. A.S. Barnes, 1957. (Ben Hogan lifetime: 64 PGA wins, 9 majors, 4 time player of the Year, 5 time money leader).
7. Although it should be noted that Ravielli never illustrated Nicklaus. Jack's two classic instruction books Jack Nicklaus' Lesson Tee (New York, Simon & Schuster, 1972) and Golf My Way. (New York, Simon & Schuster. 1974) were both illustrated by Jim McQueen (The Golden Bear lifetime: 73 PGA wins, 18 majors, 5 time player of the year, 8 time money leader).
20 Dec 2008 ‧ Illustration