Lewis Ginter was born on 24 Apr 1824 in New York City. Orphaned as a child, he moved to Richmond, Virginia at the age of 18 and made his first fortune in fine linens.2 He joined the Confederate Army during the Civil War and eventually rose to the rank of major, earning the nickname "The Fighting Commissary." After Lee's surrender at Appomattox, which Ginter attended, he returned home and found his city in ruins. With no economic opportunities in Richmond he moved back to New York and soon made his second fortune in banking – a fortune that was wiped out in the Panic of 1873.
Again broke, Ginter returned to Richmond and with his partner John Allen formed the Allen & Ginter tobacco company. They started with 20 empoyees and by 1886 had 1,100, almost all young women, hand-rolling cigarettes for A&G brands including Richmond Gems, Virginia Brights, Perfection, Dandies and Little Beauties.3
If there was a cutthroat business in the 1880s it was surely American tobacco. Ginter was competing with, among others, Durham and Duke in North Carolina, Liggett in St. Louis as well as Lorillard and Goodwin in New York. To differentiate himself from his competition he, in the mid-1880s, had the idea of taking the plain cardstock used a a pack stiffener and printing an advertisement on one side and a color lithograph on the other. He had created the tobacco card.
These lithographic cards, produced in a collectable series, were very often the first color images the customer would ever own and the desire to complete a set led to an enviable level of brand loyalty – they were nothing short of marketing genius. The effect on A&G sales was dramatic and virtually overnight all of his competitors followed suit.
The subjects of the tobacco card varied widely, everything from educational series to sportsmen to titillating women. Some early Allen & Ginter series included Birds of America, National Coats of Arms, Fruits, Great Generals, Quadrupeds, Prize Chickens, Racing Colors, World's Beauties, Girl Cyclists and World's Champions (the very first baseball cards). I would be seriously remiss if I didn't show you at least one of the Prize Chickens: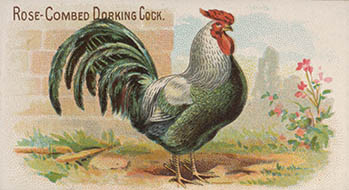 The Parasol Drill series, from 1888, consisted of 50 cards featuring beautiful Victorian women posing with their parasols charmingly recast in a military drill – a completely winning idea.
The images were drawn by artists at the New York firm of Schumacher & Ettlinger and lithographed in six colors. The completed sheets were then sent to Richmond, cut into roughly 2¾ × 1½" cards, and distributed in various packs of A&G cigarettes.
Allen & Ginter was eventually absorbed into Duke's monolithic American Tobacco Company. Ginter served on the board of the ATC for the rest of his life and became the richest man (and greatest philanthropist) in Richmond. He died of diabetes complications in 1897. His tobacco card, however, would be widely used, both in America and Europe, until the 1950s.
1. The tobacco card collector Jefferson Burdick bequeathed his entire collection – some 300,000 cards – to the Metropolitan Museum of Art shortly before his death in 1963. See: Belson, Ken. "A Hobby to Many, Card Collecting Was Life's Work for One Man." The New York Times. 22 May 2012 (online). All of the images here are from the Met's online collection.
2. For a biography see: Burns, Brian. Lewis Ginter: Richmond's Gilded Age Icon. Charleston, SC: History Press, 2011 (WorldCat).
3. A&G used rice paper "made in France especially for them," whose "purity is such in that burning them scarcely an atom of ash remains." Their cigarette brands included Richmond Straight Cuts, The Pet, Dubec (genuine Turkish), Virginia Brights, Opera Puff,* Our Little Beauties, Perfection, Richmond Gem, Sunny South, Dixie and Dainties. Loose tobacco brands included Imperial, Richmond Gem, Richmond Straight Cut No. 1, Perique, and Richmond Mixtures No. 1 and 2. See: Industries of Richmond: Her Trade, Commerce, Manufacture and Representative Establishments. Richmond, Virginia: Metropolitan Publishing, 1886 (online).
* Were I, your humble narrator, bold enough to wade thought the regulatory gauntlet necessary to start a cigarette company today (which, honestly, might not even be possible), I'm pretty sure that I would choose "Opera Puff" as my brand name.
29 Dec 2014 ‧ Design